9 Easy Peasy Sensory Play Recipes for Kids to Make Together in Minutes!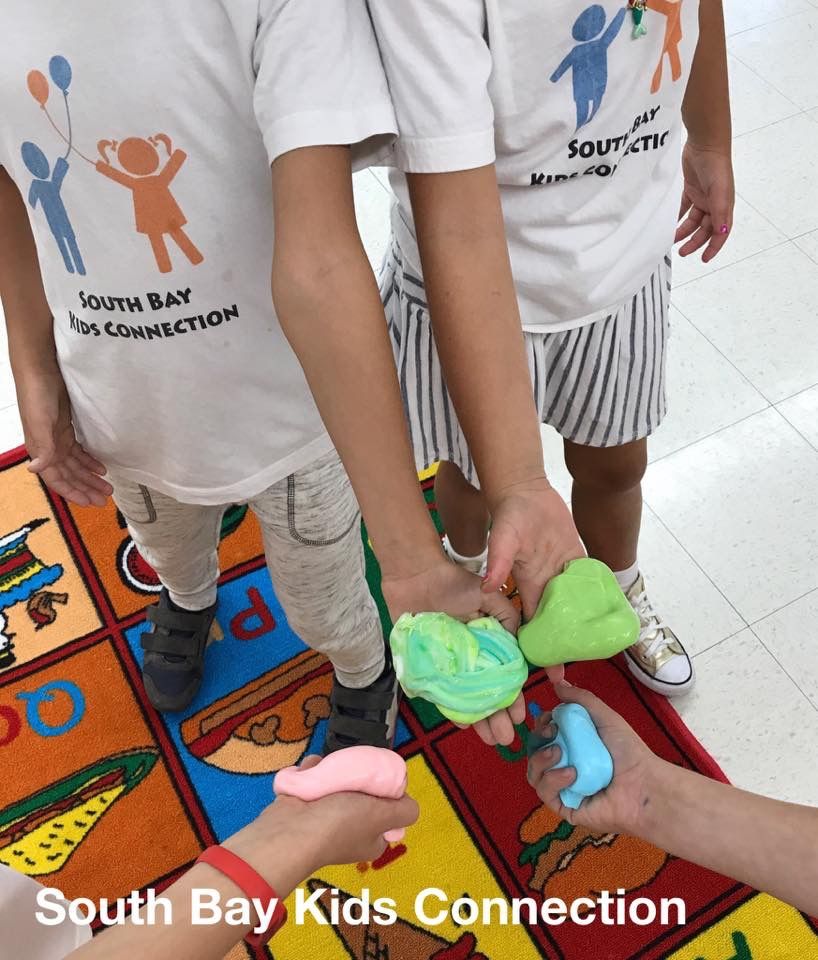 Sensory Play is the most fun type of play! For the kids that love to get messy, these activities are a dream come true! For those that are more trepidatious, they serve as an awesome, less pressurized way to desensitize some tactile sensitivities. The beautiful thing is that there are so many social skills that can be naturally taught (sharing, predicting, planning, gaining attention etc) but no right or wrong way to play with these creations.
Here's a list of 9 super simple recipes the kids can make together and ideas for how play can be extended after making their creations. All the recipes can be made in a matter of less than 20 minutes which is max attention span for this crowd. I recommend using one big bowl or container per 3 children so each one can get a chance to pour, measure, or mix as well as make comments and ask questions to each other. I suggest buying the ingredients in bulk as most of the recipes interchange the same ones!
Oobleck
This stuff is so cool, even my middle schooler loved making it in science class! It has weird yet fascinating texture because it's both a liquid and a solid. Form it into a ball and watch and feel it melt in your hand. Trust me, you will not stop playing with it! Just mix a 2 :1 ratio of cornstarch to water and behold the magic.

Slime
The biggest thing to watch out for when making slime is adding too much contact solution and having it become too hard. Mix all ingredients first and then add the solution in little by little.

Puffy Slime
Same drill as regular slime but add 2-3 cups of shaving cream. This makes the texture more puffy and funnily enough, I have found that most kids have a strong preference for one or the other!

Shaving cream and Food Coloring
The most simplest of the activities but the most visually appealing. It's so satisfying to see the colors blend in with the white shaving cream as you mix them together. You can choose to have this activity a bit more controlled by having the kids pump out the shaving cream on sheet pans or you can use a plastic table cloth and just pump it out over that and throw it away afterwards. I like the more controlled option as I find it focuses the kids attention more and makes them more aware of the color changes rather than just the slippery sensation of the shaving cream.

No-Bake Playdough
Everyone loves playdough!

Salt dough
This dough we actually want to dry out. After it's made, roll it out, shape it how you see fit and then dry it. Typically it's recommended to dry out overnight. However, if you microwave it in 10-20 sec spurts, it will harden. To make, add 1 part salt to 2 parts flour and then pour in water little by little until you reach a dough consistency. The center may still be a little soft but it will be hard enough for the kids to carry home and it can dry overnight.

Kinetic Sand
Mix the sand and corn starch together first, the dish soap and water together and then add them together. It comes out pretty darn close to the store bought kind!

Sand Foam
Pour sand in a bowl and add shaving cream to get the texture desired. You can't really mess this one up!

Moon Sand
The texture of moon sand is so soft and soothing to work your fingers through. Different scented baby oils can add a nice calming element as well. And guess what? It never dries out! Put the flour in a bowl and then add the oil, adding more as needed. I just keep it in a ziplock bag and it holds up very well!

Now that the kids have made their concoctions, have them play together!
Add animals or cars in the mixtures for imaginative play.
Hide things inside the playdough or sand creations.
Use hands to roll, make shapes, letters, etc with the playdough.
Make shapes from sand pails and cookie cutters.
Pretend the oobleck is snow and create an artic scene.
Press toy animal footprints in the salt dough to make a fossils.
Write letters or draw pictures in the sand foam or colored shaving cream.
See who's slime can stretch the longest.
Use little tools like play knives to cut through the playdough and moon sand.
Squeeze it in your hand and be mindful as to how it feels.
* As an Amazon Associate I earn from qualifying purchases